Your stay at the Vertrouwen



Port of departure: Lemmer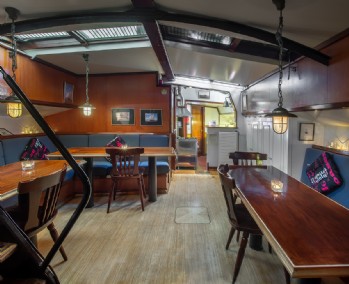 The Vertrouwen is an original 'tjalk' from 1909, but with a modern and light interior and a spacious kitchen. During the tourist season, the ship sails on the Wadden Sea, the IJsselmeer, and the Frisian inland waterways. In winter, it can be booked for festive occasions in Friesland.

The Vertrouwen is an especially suitable ship for company or family outings, for youth groups, and for hiking, cycling and sports associations. Reinold is a passionate marathon runner and will happily take you along one of his training rounds. You can also organise a football or volleyball game on one of the islands that you pass along the way. The deck even lends itself wonderfully for a stretching and workout session at sunrise. We also love to organise extensive walking or cycling tours!

Because of the moderate alcohol policy on board of the Vertrouwen, the ship is less suitable for bachelor parties or groups that are likely to drink vast quantities of alcohol.
Sailing on the Vertrouwen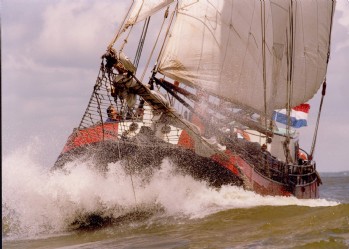 Everyone can actively participate in sailing the ship; with hoisting and reefing the sails, steering the ship, or with the navigation. You don't need any previous sailing experience, the experienced crew likes to instruct you in everything you need to know and do!

On deck, there is plenty of comfortable space to relax, do nothing, and enjoy the views. Surely there nothing better than enjoying each other's company, the tranquillity and vast nature, with a cup of coffee or tea in your hand while you listen to the wind in the sails and the splashing water against the bow.


The Vertrouwen's crew
Skipper Reinold comes from a family working in the hospitality branch. It is in his nature to make people feel at home on board the Vertrouwen. Apart from that, Reinold is an experienced skipper who has been working as a skipper on several ships since 1994. This means that he knows the Dutch waterways like the back of his hand. Reinold purchased the Vertrouwen in 2009.

Layout

The saloon has three tables with benches and several free-standing chairs. It comfortably seats 16 people, where they can enjoy meals or just relax and play one of the available board games. The galley (ship's kitchen) includes a 4-hob Boretti stove and an oven, and the long worktop offers plenty of space to prepare your meals. As the kitchen has an open connection with the saloon, those who do the cooking or washing up never feel separated from the rest of the group.

The five sleeping cabins with 16 berths in total all have a porthole or deck hatch and running water. The ship has one toilet, one shower, and one bathroom with a toilet and shower.
Facilities Vertrouwen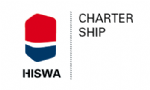 The Vertrouwen is a member of Hiswa (Dutch Association of Proprietors in the Water Sports Industry), so you book safe and secure!